Zippo Mfg.

FØR: kr 259,-

NÅ: 219,-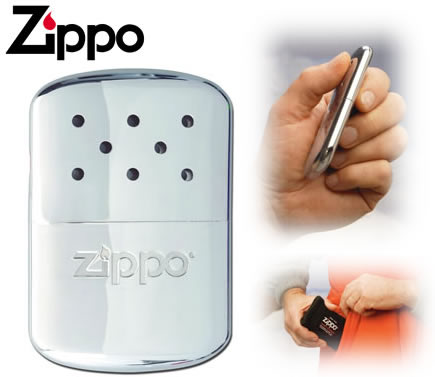 Sort og Blank !!!

Produsenter
Klarna
Velg riktig multi-tool
Want to carry an entire array of tools with you at all times, without needing a tool box or tool belt to store them in? Multi-tools give you this ability. This tool category features folding needle nose pliers, with an array of extra tools that are stored in its handles. Larger than a Swiss Army knife, but with the same benefits, multi-tools give anyone the convenience of carrying an assortment of tools with them, without weighing down their pockets.
Leatherman Wave
When someone mentions a Leatherman tool, the image of a Swiss Army knife that has morphed into a toolbox comes to my mind. Tim Leatherman originated the tool category that we've come to know today as the multi-purpose tool. One of the top of the line Leatherman tools is the Wave model.
Made of 100% stainless steel, the Wave packs a lot of tools into a small package. Here's what you get:
Needle nose Pliers
Regular Pliers
Wire Cutters
Hard-Wire Cutters
Clip-Point Knife
Serrated Knife
Diamond-Coated File
Wood Saw
Scissors
Extra Small Screwdriver
Small Screwdriver
Medium Screwdriver
Large Screwdriver
Phillips Screwdriver
Can / Bottle Opener
Wire Stripper
Lanyard Attachment
Length: 4 in. / 10 cm closed, 6.25 in. / 16 cm open
Weight: 8 ounces / 224 grams
When closed, the Wave is a compact tool that can fit in a pocket, tool box or glove compartment. The included leather sheath protects the Wave from dirt and scratches. Four tools are accessible when the Wave is closed. The Clip-Point Knife, Serrated Knife, Diamond-Coated File, and Wood Saw can each open into a locked position which allows you to use the tools safely. The lock is located at the base of the blade and can be easily disengaged with the press of a finger.
The handles of the Wave fold open to reveal strong needle nose pliers and the rest of the tools hidden inside the handles. The handles have rolled edges which make them very comfortable to use while working.
At the base of each handle is a selection of screw driver tips, a pair of scissors and a bottle opener. Like the folding action, accessing the screw driver tips is easy and pretty much effortless. You don't have to worry about breaking a nail Each tool clicks into place when fully opened. The best and most comfortable way to use the individual tools, is to extend the tool, and then fold the Wave back into the closed position.
The Wave can be 'upgraded' with a Tool Adapter kit which is sold separately. This kit comes with a slide on 1/4" Hex Drive that has 3 locking positions. Included are 6 individual bits and a compact plastic storage case that can clip to your belt.
Gerber MP800
Leatherman isn't the only company in the multi-tool genre. Gerber carries a wide range of tools that they call Multi-Pliers. These tools actually have a few features that are missing in the Leatherman tools.
The MP800 has a chunky military look and feel to it. It has more curves than typical Leatherman style tools, and a gold / bronze finish instead of polished steel. The handles also have neoprene padding that is supposed to make them more comfortable during use. The only thing is that the padding isn't on the edges of the handles, but on the front and back surfaces. Surfaces, that your hands don't really come into much contact with...
Unlike the Wave tool reviewed above, the MP800's tools are all accessible while the handles are folded closed. The tools available include:
Knife blade
Scissors
Interchangeable saw blade
Phillips screwdriver
Small, medium, and large screwdrivers
Bottle opener
File
Length open: 6.625 inches, closed: 5.125 inches
Weight : 8.6 oz.
The MP800 opens smoothly to reveal needle nose pliers. In the open position, the outside edges of the handles are rounded and more solid, making them very comfortable to use.. Also, the pliers have a spring that allows them to spring open when you are not applying assure to them. This makes using the pliers very easy.
The jaws of the pliers have replaceable tungsten/cobalt carbide wire cutter inserts. Tungsten/cobalt is much harder than any stainless steel. These inserts can be rotated to a new edge with a Torx head wrench (included), when one edge becomes worn. To protect the tool, a ballistic nylon belt case is also included. The MP800 is well made, and sufficiently rugged.
Victorinox SwissTool X
The folks who invented popular Swiss Army multi-bladed pocket knife, have their own line of multi-tools. The SwissTool X from Victorinox s made of 100% polished stainless steel. It's the longest and heaviest of the tools reviewed here. It also has the most blades and screw driver tips.
The tips included are:
Pliers
Screwdriver (2mm)
Screwdriver (3mm)
Wire cutter (for wire up to a hardness of 40 hrc)
Screwdriver (5mm)
Bottle opener
Screwdriver (7.5 mm)
Large blade
Scissors
Metal file
Metal saw
Wood saw
Reamer/punch
Phillips screwdriver
Chisel/scraper
Strong crate opener
Wire bender
Wire stripper
Wire scraper
Wire crimper
Can opener
Ruler (9 inches)
Ruler (230mm)
Hard wire cutter
Lanyard hole
Length: 4.5 inches closed, 6.75 inches open
Weight: 280 gram, 9.9oz
Every blade opens with a click and also closes with a click. Even when you fold the handles into their closed position, they click into place. It really gives this multi-tool a quality feeling. To close the blades/tips, you have to slide down a spring loaded pad at the base of the handle.
To protect the SwissTool X, a nice ballistic nylon belt case is included. The SwissTool X is a tool that anyone would appreciate. It's built to work and last for a long time.
Summary
These are all great tools. If you want the most expandable and compact tool, go with the Leatherman Wave and the Tool Adapter kit. If you want the most comfortable pliers, go with the Gerber. Lastly, if you want the most built-in blades and screwdrivers, go with the SwissTool X.